Bicentennial Events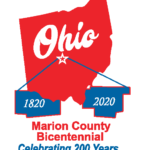 Marion 200 Speakers Series :
The Marion200 Speaker Series will provide a summary of various layers of Marion County's journey from its 1820 roots to present day. Speakers on a wide range of topics will focus not just on the where and when but also the how and why of Marion County's past. Supplemental exhibits will also be utilized to tell the story of Marion County's development. All programs in the series are presented free of charge thanks to the generosity of the Bicentennial's Legacy Sponsors.To view the Marion 200 Speaker Series schedule click here.
Marion County Homecoming 2020 Events:
Marion County Homecoming 2020 is a county-wide celebration of the Bicentennial of Marion County, Ohio. Homecoming activities will start in early spring with each village/community in the county hosting an event. The culmination will be a finale homecoming celebration at the Harding Home Presidential Site in early October. For a complete list of Marion County Homecoming events click here.
To download or print the Marion County Bicentennial Events brochure click here.