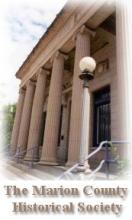 OUR HISTORY:
The Marion County Historical Society was formed as the result of a series of adult education classes taught by Marion Judge Charlton Myers. An organizational meeting was held in February of 1969, with 75 individuals joining that evening and an eventual total of 243 individuals joining as charter members.
For several years, the society had no official home. Meetings were held in various locations, and donated items were stored in members' homes and other buildings. Temporary headquarters were eventually secured above the Laipply's Printing Shop. In 1981, our first property was acquired with the donation of a small cottage at 255 South Main Street. Renovations were completed, and our collections were moved to their new home. In 1988, the Marion Post Office building at 169 East Church Street became available for purchase. After more than a year of discussions and negotiations, the membership took a substantial financial risk and purchased the building for $78,000. The society named their new home Heritage Hall. A significant contributor in terms of both financial support and leadership was George K. Brown of the Wyandot Popcorn Company. His offer to provide a monthly payment for the use of dedicated space to house his collection of popcorn and peanut machines made the project financially feasible. Today more than 45 fully-restored popcorn machines and peanut roasters are housed under a giant circus tent in the Wyandot Popcorn Museum.
Extensive renovations and improvements have been made to the building, which opened in 1910, with additions in 1924 and 1936. Reconfiguring spaces for exhibits and storage, updating building systems, and the installation of an elevator are just a few of the numerous changes. In 1990, Heritage Hall was added to the National Register of Historic Places.
The Marion County Historical Society is proud of our organization and our home as we continue with our mission to collect, preserve, and share the history of
Marion County, Ohio.