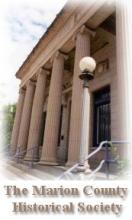 The Marion County Historical Society was founded in 1969 by a group of adult education students who had attended classes by Marion's unofficial historian, Charlton Myers.
Since that time, the Society has grown into one of Ohio's most successful local history organizations, with over 300 members, and a permanent home at the old Marion Post Office, now known as Heritage Hall.
We welcome you to our website, and hope you will take the time to explore the many features available to you, both online and in person at the many events sponsored by the Society.