Bust of Warren G. Harding
Visitors walking along the hall in the lower level of Heritage Hall will see a white plaster bust of Warren G. Harding. Few woul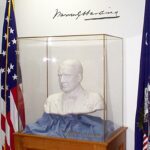 d know how it came to be there but I found the explanation in the book "Lest We Forget—Vignettes of Morrow County, Ohio by Charles and Delpha Mosher. The quote below is on page 99.
My wife, D. Ruth Mosher, served as the catalyst in locating and returning the only bust * ever made of Warren Gamaliel Harding. About 1990 Ruth was caring for Marion Meister,
daughter of a country doctor and mother of Paul Meister of Marion. One day the subject of President Harding came up, and Marion mentioned that an artist named Sue Watson Marshall had sculpted a bust of Harding. She also recalled that during Senator Warren G. Harding's presidential campaign in 1920 the bust had been part of a display in the show window at the Kleinmaier Men's Clothing store located at the southeast corner of Center and Prospect Streets in Marion in the Busby building. The profile was silhouetted on a sheet producing a dramatic effect that many thought was the candidate himself.
Ruth suggested to Marion Meister that the bust would be an interesting addition to the
growing collection of Harding memorabilia soon to be housed in the former Marion post office located on the southeast corner of Church and State Streets. The Society had recently acquired it and renamed it "Heritage Hall."
With Paul Meister's assistance contact was made with Charles Kleinmaier, then in his 90's,and it was learned that he was most willing to donate the bust which had been stored in the attic of his New Jersey home for many years.
At that time Jack Telfer, as director of the new Marion County Historical Society,-was
overseeing the transformation of the former Marion Post Office building into a museum an
headquarters for the Society. Three rooms had been reserved as "Harding Rooms." When Ruth told him of the bust, and it availability , he contacted the son of Charles Kleinmaier and through him secured the bust for the Society.
Just after the bust arrived at Heritage Hall Ruth and I stood with Dr.Telfer and Dick West (atrustee of the Society) examining it. Since it was made of plaster of Paris, and was very fragile, it had been damaged in shipment. However, Dr. Telfer was able to have it restored. A pedestal and glass showcase were obtained to display this welcome addition to the Harding Collections at Heritage Hall. Mr.Kleinmaier's contribution is commemorated on a bronze plate.
* Randy Winland has pointed out that this is not the only bust of Warren G. Harding – follow these links to learn about two others:
http://www.flickr.com/photos/leonandloisphotos/2319481541/
http://www.ohiomemory.org/cdm/singleitem/collection/p267401coll32/id/15943/rec/19